Since 2014, CORA happywear has been developing innovative and eco-friendly products, making product innovation its hallmark.
Products are high-quality and produced in Europe. CORA happywear's goal is to work to reduce the damage caused by the textile industry, selecting only partners and materials that protect our children's skin from harmful chemicals.
It is the first brand in Europe to create baby bodysuits made of eucalyptus fiber (a unique fiber for its characteristics: antibacterial, super soft, thermal) in 2015. In 2018 it leaves a further mark in the world of babywear with the creation of the innovative "four-way stretch" bodysuit, the iconic bodysuit that grows with the baby and accompanies it for two years: a doubly sustainable product, which encapsulates CORA's promises of respect for the environment and of savings for families.
Today CORA presents a revolutionary circular economy project, the first and only one in the world dedicated to families: CORAcircle.
WHY MAKING PRODUCTS ACCESSIBLE TO EVERYONE?
An important step towards innovation and sustainability: CORAcircle is the first organic clothing rental project for babies from 0 to 24 months. The service stems from the idea of helping families to manage their baby's needs in the best possible way with a pre-packaged selection of the clothes (for baby boys, girls or neutral) they need. This gives them the chance to enjoy eco-sustainable clothing at an affordable price, helping this way to protect the planet.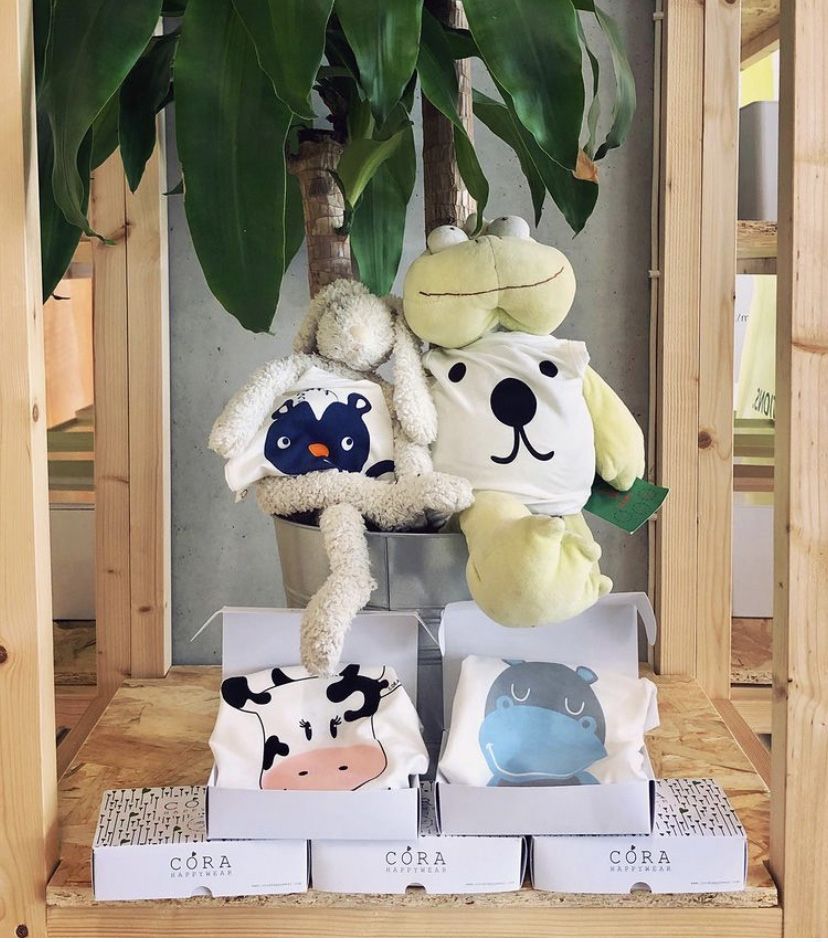 WHY SHOULD I RENT? IT'S MY FIRST BABY AND I WANT EVERYTHING NEW!
Save time
We will help you select the products you really need when your baby arrives in the family. You will have more time to devote to welcoming your baby.
Manage your space
With the arrival of a new little family member, space in the home is at a premium. By managing the various wardrobe changes with us, you won't have to worry about where to collect the clothes you no longer use: you won't have to worry about selling them or giving them to the right person. We simply collect the parcel of products that are no longer in use.
Save the planet
Our service aims at reducing the number of new items that need to be produced, helping to reduce the quantity of textiles that go to landfill. This is a way to reduce the polluting impact of the fashion industry.
Save money
The monthly subscription can let you save up to 70% of the value you would spend on new, eco-friendly premium products.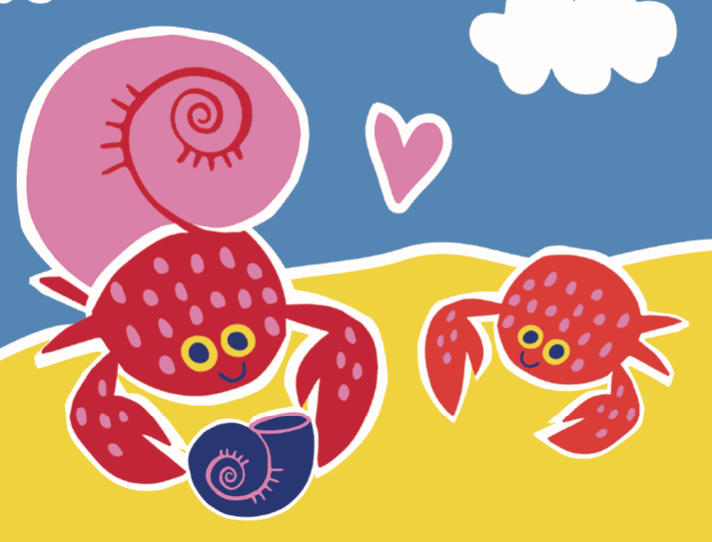 LIKE A HAPPY HERMIT CRAB
"Just as hermit crabs search for a new shell to protect themselves as they grow, CORA happywear creates the right clothes for happy children, at each and every stage of growth, without ceasing to be worn."
HOW DOES CORA CIRCLE WORK?
The concept is simple and allows you to rent clothes that are ethically produced and made of environmentally friendly materials for your baby, from birth till two years of age.
Instead of you buying the clothes, we take care of renting them out to you. Once they have been used, they are refurbished and sanitized, and then put back into circulation. If your little one needs an extra size or a change of season, we send you a new parcel and you return the previous one to us.
Each parcel contains an optimal selection of items, so you get exactly what you need and love. Our clothing is made entirely of high quality, hypoallergenic fabrics: bamboo, Tencel (eucalyptus fiber), and organic cotton.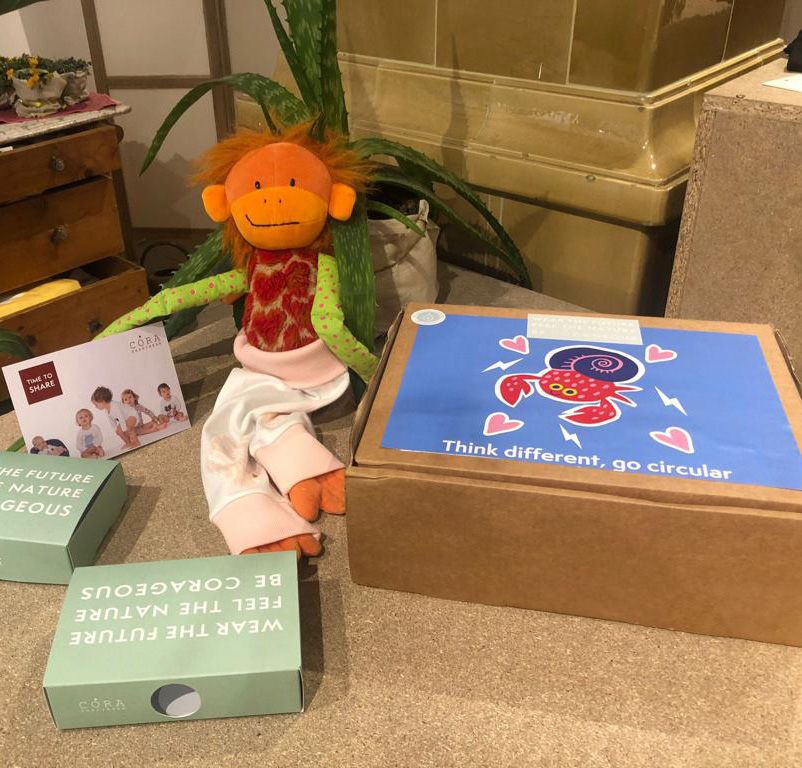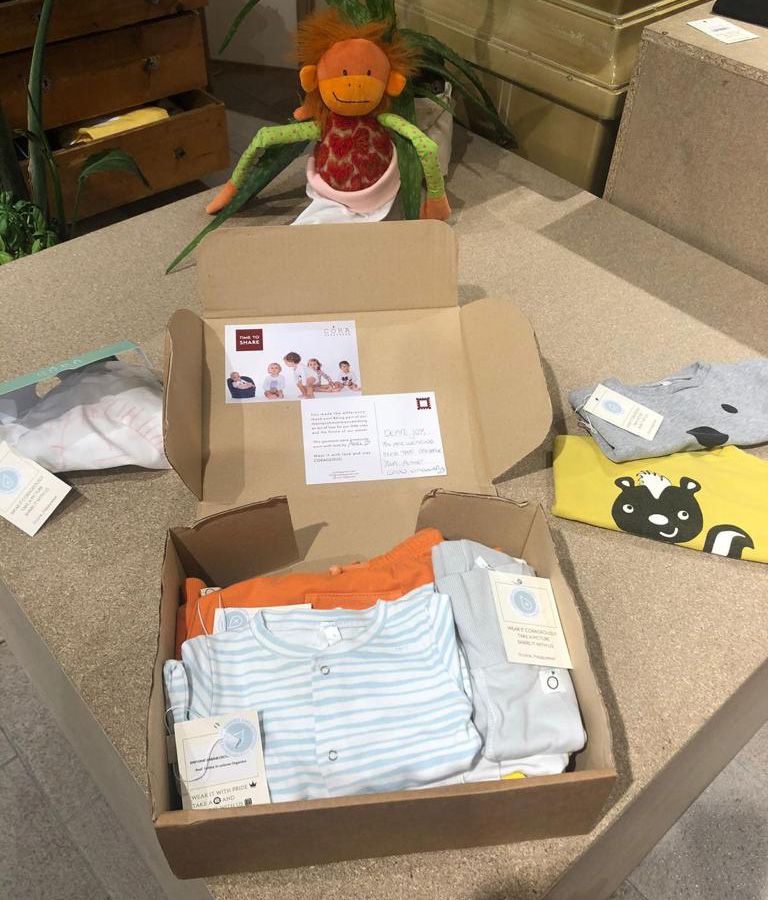 Our subscribers will have access to our inventory through the CORA e-commerce site. In case you need to change your clothing (for instance for the next size up, a special occasion, vacation or a change of season) we will send you a new selection of clothes. Once received the new items, simply return the ones you have finished using.
Each parcel will be a mixture of new and used items, but all in excellent condition. On request, you will be able to subscribe for new products only.
The project will be active from October 1st, 2021. Limited first access: sign up now to be among the first 100 to use the service from 1 October. ***
CHANGE IS NEEDED: BREAK THE FLOW.
The fashion industry is the second most polluting industry in the world and is increasingly under scrutiny. Our service aims to reduce the number of new items that need to be produced, helping to reduce the quantity of textiles that go to landfill.
Circle CORA is a sustainable, cost-effective, time- and space-saving solution for parents, helping to reduce the huge amount of 'stuff' that accumulates around a young child.
Become part of the change: be courageous, be circular.
***subscribe now to be one of the first 100 to take advantage of this service starting from October 1st, 2021.